Since healthy eating is one of the most important factors is healing PCOS I have put together a list of easy recipes that work great for leftovers as well. If you are anything like me, I like to cook but I don't want to make 3 new recipes each day, so leftovers work great for me. Last nights dinner just became tomorrows lunch. Crock pot cooking and soups are by far my favorite ways to cook. If making soup, make enough so you can package individual sizes and freeze. Frozen Soup is a great last minute meal idea & easy for those of you who need lunch ideas for the office.
Like Joshua Rosenthal said, "Cook like your life depends upon it, because it does!"
Crockpot Pork with Mushrooms-Asian Style
Loved this one for it's versatility, yummability, and it's one pot wonderness. I know most of those are not words, but this meal is so easy, delicious, and can be enjoyed in so many ways. Spicy pork marinated in Asian sauces and spices left my husband wanting leftovers for the next few days. Since we like things spicy in my house, we added lots of Sriracha sauce at the end for a nasal cleansing experience.
Ingredients:
2 lb lean boneless pork sirloin roast

salt and pepper

non-stick cooking spray

1 cup low-sodium chicken broth

1/2 cup reduced sodium soy sauce

1/3 cup red wine vinegar

3 tbsp splenda

1 tsp sesame oil

1 tbsp red pepper flakes

1/4 tsp cinnamon

1/4 tsp ground cloves

3 cloves crushed garlic (or 3 heaping tbsp minced garlic)

3-4 tbsp fresh grated ginger root (use more if you like the flavor)

8 oz sliced mushrooms
1/4 cup chopped scallions

1/4 cup chopped cilantro

2-3 tbsp Sriracha sauce (Got mine at Wal-Mart on the Asian foods aisle)
Season pork on all sides with salt and pepper and heat in a medium-high warmed skillet. Spray the pork with a little oil and brown on all sides for about 7-8 minutes.
In crock pot, combine broth, soy sauce, vinegar, splenda, sesame oil, cinnamon, cloves, garlic, and ginger. Add the pork and set the slow cooker to 8 hours on low.

Thirty minutes before the timer goes off, remove the pork and set aside to rest. Add the mushrooms to the crock pot, cover, and cook on low for 30 minutes. Meanwhile, shred the pork using two forks.

When mushrooms are tender, add the shredded pork to the crock pot and mix well.

Serve over brown rice or just as is. Top with scallions, cilantro, and sriracha sauce.
20-Minute Vegetarian Chili
Recipe Via ~ Young Womens Health
20-Minute Vegetarian Chili

Ingredients

:
1 large bell pepper (green or red), seeded and chopped
1 medium zucchini or yellow squash, diced
1½ cups (about 4 ounces) fresh mushrooms, chopped
1 tablespoon olive oil
3 cloves garlic, minced
1 large onion, chopped
1 (14 ounce) can diced seasoned tomatoes,with liquid
1 (16 ounce) can red kidney beans, drained
1 cup canned corn, drained
Preparation:
Heat oil over medium heat in a large pot. Add garlic and onion; sauté for a minute or two, then add peppers, mushrooms, and zucchini. Sauté for a few more minutes or until vegetables are tender, stirring constantly. Then add the tomatoes with their juices, beans, corn, and chili seasoning. Stir until combined, lower heat, and simmer for 15 minutes.

Makes 4 servings
Recipe Via ~ Heal with Food
6 servings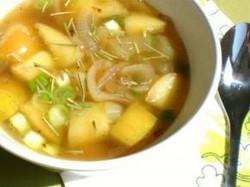 Ingredients



1 Tbsp canola oil
2 medium yellow onions, sliced
1 small leek, chopped
1/2 Tbsp fresh rosemary, chopped
1/2 Tbsp fresh thyme
3 organic apples, cut into small dices
6 cups fat-free, low-sodium vegetable broth
Directions
Heat the oil in a medium saucepan over medium heat. Add the onions and sauté until golden.

Pour in the broth and bring to the boil over medium-high heat. Add the apples, and reduce the heat to medium-low. Simmer for 10 minutes.

Nutritional Information
Nutrition facts for this Apple and Onion Soup are provided per 100 grams, per recipe (2321 grams), and per portion (387 grams) in the table below. The
Percent Daily Values
are provided in brackets.


Per 100 g
Per Recipe
Per Portion
Comment
Energy in kcal
28 (1%)
639 (32%)
107 (5%)
Low calorie meal
Protein in g
0 (0%)
5 (11%)
1 (2%)
NA
Total Fat in g
1 (1%)
16 (24%)
3 (4%)
Low in fat
Saturated Fat in g
0 (0%)
1 (5%)
0 (1%)
Low in saturated fat
Carbohydrates in g
5 (2%)
127 (42%)
21 (7%)
NA
Fiber in g
1 (4%)
24 (98%)
4 (16%)
Good source of fiber
Sodium in mg
38 (2%)
881 (37%)
147 (6%)
Relatively low in sodium
Cholesterol in mg
0 (0%)
0 (0%)
0 (0%)
Cholesterol free
Navy Bean Soup
Ingredients
2 1/4 cups

dried navy beans (about 1 pound)

6 cups

warm water

1

small yellow onion, peeled

3

whole cloves

2/3 cup

chopped celery

3

thyme sprigs

3

parsley sprigs

3

smoked ham hocks (about 1 1/3 pounds)

1

bay leaf

3 cups

chopped kale

2 cups

(1/2-inch) cubed peeled Yukon gold potato

1 1/2 cups

chopped Vidalia or other sweet onion

2/3 cup

thinly sliced carrot

1 teaspoon

salt

3/4 teaspoon

freshly ground black pepper

2 tablespoons

chopped fresh parsley
Preparation
Sort and wash beans; place in a large Dutch oven. Cover with water to 2 inches above beans; bring to a boil. Cook 2 minutes; remove from heat. Cover and let stand 1 hour. Drain beans; rinse and drain.

Return beans to pan; cover with 6 cups warm water. Stud whole onion with cloves; place in pan. Add celery, thyme, parsley sprigs, ham hocks, and bay leaf; bring to a boil. Cover, reduce heat, and simmer 45 minutes.

Discard onion, thyme, parsley sprigs, and bay leaf. Remove ham hocks from pan; cool slightly. Remove meat from bones; finely chop to yield 1/3 cup meat. Discard bones, skin, and fat. Add meat, kale, potato, chopped onion, carrot, salt, and pepper to pan; stir well. Cover and simmer 30 minutes or until beans and vegetables are tender. Stir in parsley.
Nutritional Information
Amount per serving
Calories:

396

Calories from fat:

13%

Fat:

5.5g

Saturated fat:

1.8g

Monounsaturated fat:

1.8g

Polyunsaturated fat:

1.1g

Protein:

22.7g

Carbohydrate:

67g

Fiber:

21.7g

Cholesterol:

12mg

Iron:

6.2mg

Sodium:

455mg

Calcium:

194mg
Spinach Fruit Salad
Recipe Via ~
NicolinaPicolina
This is my

favorite

salad, I make this several times a week, I either add chicken like in the photo or some grilled salmon
The 5 ~ minute muffins are a great side to any meal muffin recipe
So there you have

it,

some new healthy recipe ideas

to try
Thanks for stopping by,
Wishes to all for a healthy lifestyle and Baby Dust to all TTC